Spanish courses in Panama
In Panama we offer Spanish courses in the following cities:
Remember that when booking your Spanish course through LivingSpanish you will receive a
discount of 5% off the official school price.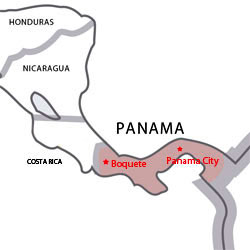 Destinations available in Panama
Population: 6,500 habitants

Type: Small mountain town

Climate: Mild climate all year
Average annual temperature: 21°C (70°F)

Description: The town of Boquette boasts a lovely location with the backdrop of the Volcan Baru, the climate is refreshingly balanced with an even temperature throughout most of the year. There is much to offer from hiking up the mountain and kayaking down the river to enjoying an excursion to one of the numerous coffee plantations.
Population: 813,097 habitants

Type: Large capital city

Climate: Average annual temperature: 21°C (70°F)

Description: Panama City boasts a stunning location as it is sandwiched between the Pacific Ocean and several, lush green rainforests. The city offers museums, shops, fine restaurants and much more.
Study Spanish in Panama
The Archipielago de las Perlas or the Pearl Islands are a big draw for people visiting Panama. There are approximately 100 islands and many of them are so tiny they are uninhabited; the group of islands are located in the Gulf of Panama. Isla Del Rey is the biggest of the islands and measures 30mi².
The highest point throughout the country of Panama is the summit of Volcan Baru this is the only volcano in Panama and it stands at 3,478metres. It is a dormant volcano and there is no known record of its last eruption, the volcano boasts 7 craters to most volcanoes one. If it is a clear day views can be observed of the Caribbean and Pacific coastlines.
Volcan Baru is located in the wonderful Parque Nacional Volcan Baru which also houses the Sendero Los Quetzales; this is known to be the most scenically beautiful trail throughout Panama. The quetzal is a strikingly colourfully bird of paradise with a stunning long tail it is found in the tropical areas of the Americas.