Spanish courses in Guatemala
In Guatemala we offer Spanish courses in:
Remember that when booking your Spanish course through LivingSpanish you will receive a
discount of 5% off the official school price.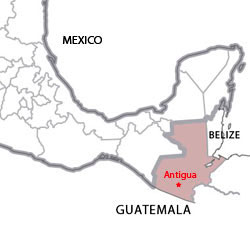 Destinations available in Guatemala
Population: 34,685 habitants

Type: Colonial city

Climate: Warm summers, mild winters
Average annual temperature: 20°C (68°F)

Description: Antigua is a city located in an unusual but stunning setting being overlooked by a volcano. The city is steeped in history that is just waiting for visitors to discover.
Study Spanish in Guatemala
Guatemala City is the country's capital city and also Guatemala's culture capital. This is the city where you will discover the museums and art galleries. The Casa Mima is a well presented museum and well worth a visit.
The building that houses the museum dates back to the late 1800's, the museum is actually laid out as a house with curious little collections and furniture that spans the centuries long gone by.
La Aurora Zoo is a very well kept zoo the beautifully maintained gardens are a treat to observe on their own without the added advantage of the animals. Mercado Central is a delightful shopping area where visitors can purchase handicrafts, textiles, pottery, leather items and wood carvings. The goods are all reasonably priced and the atmosphere is friendly.
If you are after a quick sandwich then take a trip to the Cafe de Imeri Restaurant as their menu selection of sandwiches is certainly impressive and the service is fast, diners can sit out in the gorgeous, little courtyard and eat if they prefer.