Spanish courses in Chile
In Chile we offer Spanish courses in:
discount of 5% off the official school price.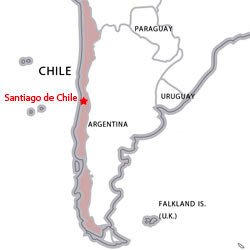 Destinations available in Chile
Population: 5,278,044 habitants

Type: Large capital city

Climate: Hot and dry summers, cool winters
Average annual temperature: 21°C (69°F)

Description: The city of Santiago de Chile is bursting with appeal for its numerous visitors. The setting is truly beautiful and quite unique; there are not many cities that are surrounded by majestically stunning mountains.
Study Spanish in Chile
Whether you seek adventure or simply a restful time Chile is the country to visit. The adventurous will never be bored as there is just too much to do including white-water rafting, hiking, surfing, horse riding and if that is not enough then how about paragliding?
For a more sedate choice visit the mysterious Rapa Nui (Easter Island) with its archaeological sites and fascinating Moai statues. These incredible statues were carved from rock between 1250 and 1500CE. They are quite an eerie spectacle because some are completed and others are not. The island continuously captivates its visitors as it is a strange mixture between nature and culture.
If you like gazing at the stars then you should pay a visit to the city of La Serena. There are some astronomical observatories within the city as it boasts a perfect atmosphere and generally crystal clear skies. The city also houses a total of 29 churches most with beautifully elaborate stonework detail.