Spanish courses in Peru
In Peru we offer Spanish courses in:
Remember that when booking your Spanish course through LivingSpanish you will receive a
discount of 5% off the official school price.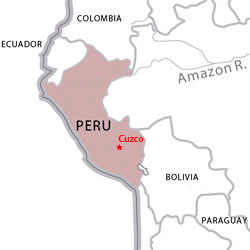 Destinations available in Peru
Population: 348,935 habitants

Type: Large historical city

Climate: Mild summers, cold winters
Average annual temperature: 21°C (69°F)

Description: Cusco has something for everyone including archaeological sites and parks, shops and street markets, some of the finest restaurants throughout Peru and a very vibrant and exciting nightlife.
Study Spanish in Peru
The coast or costa area of Peru is largely a barren and arid landscape, it is a narrow plain and has several valleys through the region that have been produced by the seasonal rivers as they flow through the area.
Peru's highlands or the sierra is the country's Andes region and contains the Altiplano. The city of Puno in Peru is one of the biggest cities in the Altiplano, the word translates to 'high plain' in Spanish. The Andes are at their widest point on the Altiplano. The highlands of Peru also boast the highest peak throughout the country standing tall at 6,768m is the Huascaran Mountain. Surrounding the majestic mountain is the glorious Hauscaran National Park which houses the stunning jaguar and the shy cougar.
The final region of Peru to cover is the jungle or selva. The jungle referred to is the Amazon rainforest and this counts for approximately 60% of Peru's area, this means that Peru has the fourth largest area of the rainforest throughout the world.
Peru contains numerous cities and towns but it also has vast areas of pure country and if you choose to study Spanish in Peru you will not be disappointed because you will be able to really experience the way that the locals live.